ShareThis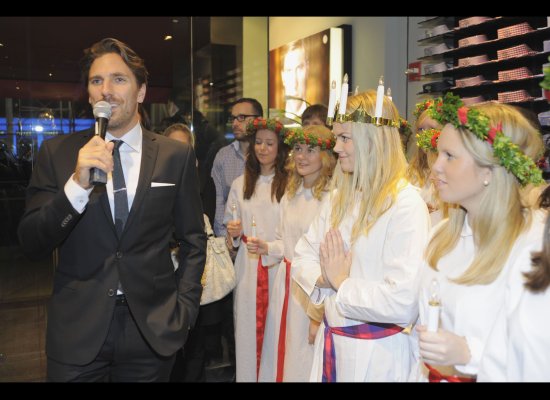 Caption:
In honor of Sweden's St. Lucia Day, New York Ranger Henrik Lundqvist was on hand at the very Nordic opening of the Eton of Sweden Flagship Store.
Henrik also attended the Paul McCartney concert at The Apollo Theater last night. I'll post more photos if/when they become available.
UPDATE:
Henrik explains Santa Lucia Day
From the Wall Street Journal:
Beyond promises of lingonberry leaves and angelic singers was the intended presence of hockey player Henrik Lundqvist, who apparently enjoys traditional merriment as much as he appreciates an Eton button-down.

"

So here's the deal," Mr. Lundqvist said. "You start celebrating this in kindergarten. Ten girls come in white, one with candles in her hair. Maybe it's a crown made of candles. And they walk around singing Christmas songs in the morning. It happens in schools, in shopping malls. And then at night, it's a big party for youngsters. It's an old holiday. You'd probably have to Google the exact reason why they do it."

Did Mr. Lundqvist have any special memories of said holiday?

He pulled this "Brady Bunch"-inspired anecdote out of his black suit: "I was probably 8. I remember my older sister was the Lucia in school. She had her hair cut a few days before, and it turned out that they cut it way too short and she was upset." Sounds juicy. What happened next? "She got over it."

That's it? "That's it. She looked good. I was a proud brother."
http://online.wsj.com/article/SB10001424052748704694004576019894216254736.html?mod=WSJ_topics_obama
Happy belated Santa Lucia Day to all my Swedish readers!